When lawn and landscaping companies are trying to increase their customer base or leads on a new job, it can be tough to figure out how to create a solid online presence. In this day and age, many people are using the internet to find new companies and learn about them. If your business is not ranking high on search engines such as Google and Bing, it will be much harder for potential customers to find you.
Increasing your ranking involves a practice called search engine optimization (SEO), which is a multi-tiered process affected by several factors. SEO works very well for lawn care and landscaping services, and here's why.
---
What Exactly Is Search Engine Optimization & Why Your Company Needs It
Simply put, SEO is the art of getting your website ranked organically on search engines. It is a collection of services combined of on-site and off-site services. In this case, organic means that visitors to your site found you via Google or Bing instead of being directed there through paid advertising. When leads are generated through organic traffic, the quality of those leads will generally be higher.
SEO generates the most leads for your company, as a majority of people click on Google organic search results.
---
How Proper Search Engine Optimization for Lawn & Landscape Companies Happens
A great online presence starts with a properly built website. At Lawnline Marketing, we start by building out each of our clients' websites with correct structure, coding, and content. The site is built in a way that targets keywords and geographical locations that our clients want to rank for, such as "lawn mowing Portland, OR" or "hardscaping services Fort Collins, CO".
After a client site is launched, we consistently create new content that targets those keywords. We also create and update NAP (name, address, phone number) citations, which are business listings around the internet on sites such as Angie's List, Manta, and more.
Another big part of online presence is the Google My Business listing, which shows your business location, website, phone number, business hours, and more. We create, update, and monitor customer reviews on this platform.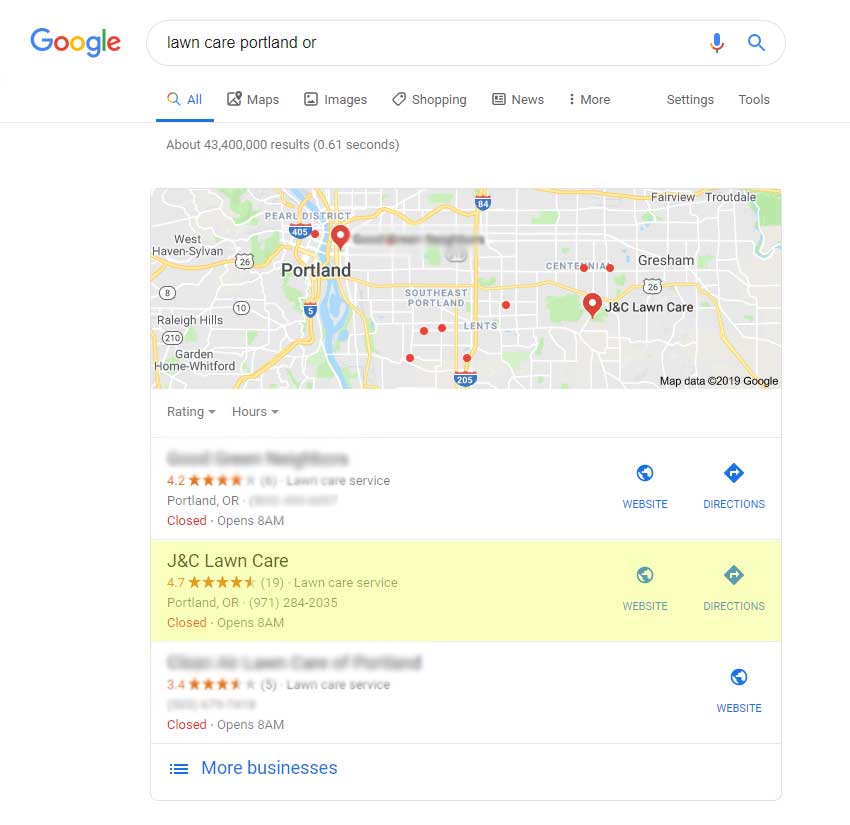 We also work to increase social media engagements with your page audience through content promotion. Building up your reviews on the sites that matter such as Google and Facebook also contributes to your SEO. Google takes these reviews into account when creating rankings for keywords.
On top of all that, we also generate competitor analysis reports and tracking so that we can identify opportunities for inbound links and keywords that your competitors are ranking for. When we find these opportunities, we can work to target those keywords as well. We perform consistent website audits each week that track your site's position and placements as well.
---
How Long Does it Take for SEO to Happen?
There is no set amount of time for how long it takes SEO to happen. It depends on many different factors, which include:
Your current authority/trustworthiness
Your level of competition
Your relevancy
To display in the maps on a search results page, it relies on your proximity and your prominence—in other words, how close you are and how well you are known in the online world. Based on our experience, this is about how long SEO can take:
For less competitive areas and terms: 1-3 months
For semi competitive areas and terms: 4-12 months
For highly competitive areas and terms: 12 months +
It is important to note that these estimates are for a brand-new online presence, not a site redesign. If your company already has an online presence, then the amount of time will depend on your existing presence.
---
Does your company need a bigger, better online presence?
Contact us today at (813) 944-3400 to start the process of becoming one of our clients. At Lawnline Marketing, we provide internet marketing services to lawn and landscaping companies all across the United States. We would be happy to discuss your business needs with you and advise you on the best route to take with the SEO packages we offer.