We specialize in websites for lawn care, landscaping, and other green industry businesses.
Make sure your landscaping or lawn care website appears where your customers are searching—Google.
Having a professional website that is properly built is vitally important for lawn care, landscaping, hardscaping, tree services, nurseries, and other green industry businesses. Not only do potential customers use your lawn care website to gauge your quality of service, but it is also how many new customers will find you. Like many other services, most homeowners head to Google in search of a provider for their lawn and landscape services.
Did you know that your landscaping website and domain are the foundation of your online presence? That means the credibility and authority you build with search engines are tied to the domain name (your .com) that your website resides on. Search engines like Google use your lawn maintenance website as a primary tool to determine what services you offer and where you offer them. It is also your website pages that rank on Google and allow your green industry business to capture new customers. Needless to say, your website is the most important piece of your online presence.
When you hire our team, it is a very hands-off approach for you. We already know about the services you offer and the best way to present them. The only things you need to provide are photos (we can even supply these if you don't have any) and approval of our work.
Your website is the most critical part of your online presence and that's why we do everything for you, including the content writing.
---
Learn Why Our Lawn Care & Landscaping Websites Are so Successful
Designing and developing a landscaping or lawn care website that generates leads is no easy task. Fortunately for you, we've made the journey many times and will guide the way. Learn here a few reasons why our green industry websites for hardscaping companies, lawn maintenance businesses, and more get results.

Design & User Experience
Our designs, both template and custom, use proven tactics that convert visitors into leads.

All Devices & Mobile Friendly
On everything from smartphones to smart TVs, your website will look and function perfectly.

Quality & Unique Content
A huge SEO factor, our content is unique and full of detail about your services and areas.

Imagery
We provide enhancements, sizing, cropping, caching, geotagging, and descriptions for your images.

Proper Site Structure
We break out pages for your individual services and properly structure the page hierarchy.

Clean & Optimized Code
Our code is hand-written, clean, and optimized. We use HTML5 and place emphasis appropriately.

Strong Geographic Signals
We communicate your service area to Google through metadata, content, geotagging, and more.

301 Redirects
If replacing an existing website, we handle 301 redirects to ensure page value is transferred.

Google Analytics
All websites include a Google Analytics integration, allowing you to monitor traffic and insights.

Google Search Console
All websites include Google Search Console, letting you track search performance on Google.
---
Targeting individual lawn care and landscape maintenance services is key.
Targeting individual lawn care and maintenance services by creating dedicated pages for each service is a key tactic that contributes to user experience, proper site structure, and quality content as outlined above. Also, search engines like Google love dedicated service pages. Here is a screenshot from one of our client websites where you can see individual pages for mowing, landscaping, hardscaping, irrigation, and more.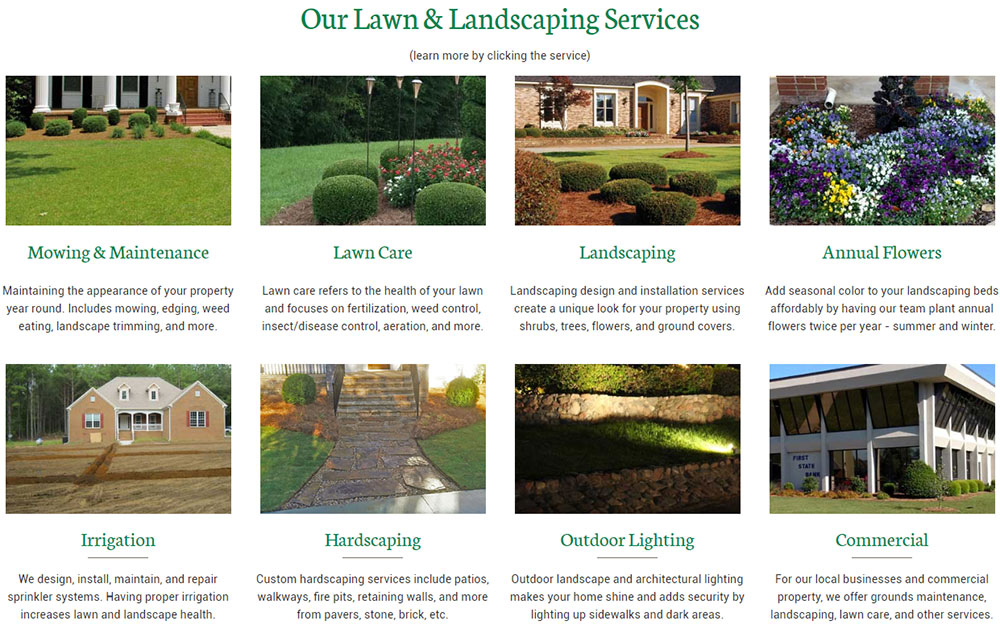 Simply put, if someone searches for a specific service like "lawn mowing", and you have a page dedicated to lawn mowing, your chances of ranking go up significantly.
---
Experience for yourself how we became the top-rated web design agency in the green industry.
If you own a lawn care, landscaping, or other green industry business, then let's talk about your business website and how we can help. Our consultation is completely free, so you have nothing to lose. Give us a call at (813) 944-3400, and we'll go over pricing, timelines, expectations, and more! If you decide to move forward with us, then you'll experience why we're the top-rated website and web design agency for the green industry.