Websites, SEO, and marketing services for hardscape and outdoor living contractors.
Generate leads for outdoor kitchens, patios, walkways, fire pits, and more!
We love doing web design, search engine optimization (SEO), and online marketing for hardscaping contractors because of the challenges we must overcome. Many of our hardscape clients design and build outdoor living spaces that cost into the hundreds of thousands of dollars. However, we also work with hardscape clients that do smaller projects such as only a paver patio, flagstone walkway, or a fire pit. Generating real quality leads in the hardscape industry requires a creative approach to first qualify a visitor, then convert them to a lead.
Because hardscaping projects require a larger budget, generating leads is far more difficult than other services, such as maintenance or turf management.
---
Getting interested homeowners to your website with organic SEO and paid advertisements.
We've found the most effective source for quality hardscaping leads on the Internet is Google. Homeowners go online and search for what they want to build using keywords such as outdoor kitchens in [your city] or custom patios in [your city]. When you show up at the top of Google for those searches (whether from paid ads or organic SEO), it becomes much easier to get that homeowner to land on your website and review your services.
Organic SEO tactics we use on your website.
The long-term goal is to gain organic search engine rankings with a properly built website. For organic SEO, we create pages dedicated to each type of hardscape element you design and build because that is how people search. When you have a page dedicated to outdoor living spaces, your chances to rank organically for that search term increases dramatically. For each page, we do the following tasks:
Detailed Content Writing: Depending on the type of service the page focuses on (outdoor kitchen, patio, etc), we'll educate the visitor about the types of materials you use, available options, planning/rendering software, and any other important details.
Dedicated Photo/Video Galleries: If a visitor is viewing a page about outdoor kitchens, we'll embed a gallery on that page featuring only your outdoor kitchen projects. If you have videos, those also work very well. We also handle the technical SEO parts (file naming, compression, alt text, geotag).
Geographic Signals: All throughout the page, we embed geographic signals to communicate to the search engines where you provide your services. This includes the proper use of metadata, headlines, content, and even imagery geotagging.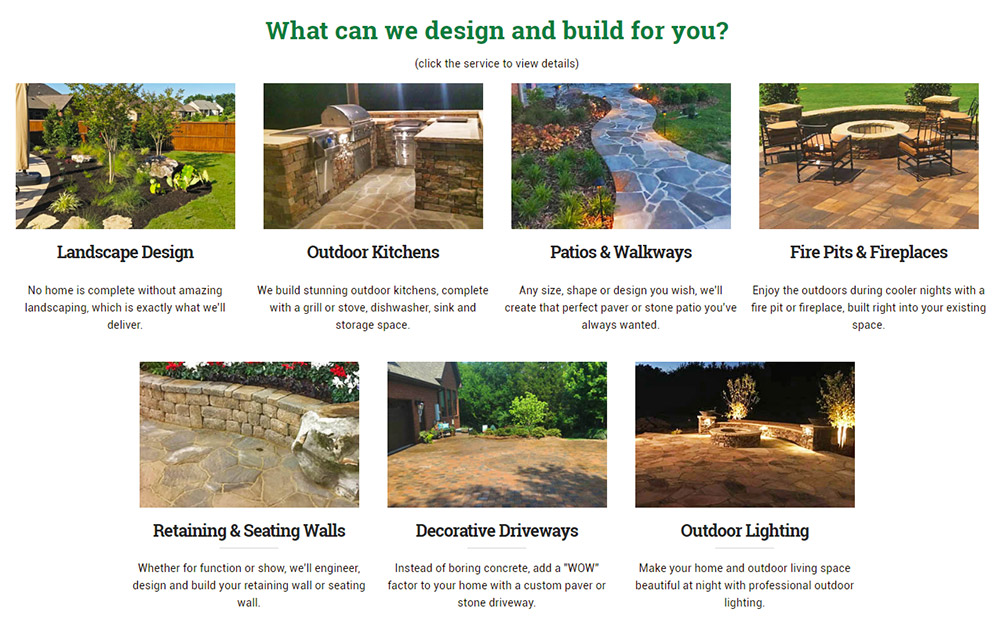 Google and Facebook ads to attract new leads.
To get homeowners to your website immediately, we use Google Ads and Facebook Ads. Utilizing these platforms, we can ensure your website is put in front of people that are looking for your services in your areas.
For Google Ads, we drive new visitors using segregated search campaigns to focus on each service. We have strong negative keyword lists that ensure you only show up for quality and relevant searches. We also advertise to custom affinity audiences, which means targeting people who are interested in your services or competitors based on their web browsing history and actions.
For Facebook Ads, we drive new visitors using content marketing and promotional advertisements to audiences based on their interests and demographics. For example, we can place your advertisement in front of an audience that matches all of these criteria: married women, homeowners, over 30 years old, and interested in outdoor living spaces.
After getting a visitor to your website, we qualify them by creating project case studies to visually demonstrate your typical project and customer.
---
We use project case studies and remarketing to nurture the visitor until they are ready for a consultation.
Many hardscape leads, especially those looking for bigger projects like full outdoor living spaces, don't reach out the first time they visit your website. Typically, they start off looking for ideas and research potential contractors that are in the area. It could take up to 6 months or a year before the customer decides they are ready to move forward. This is where project case studies and remarketing really shine.
Project case studies are pages on your website dedicated to a single project. You simply send us any photos or videos you have of the project and we handle the rest. From looking at the photos, we can determine what you've designed and built, along with the materials used and options that were chosen. We'll create a detailed write-up describing the project and create galleries that showcase your before, during, and after photos. We typically also integrate social media sharing functionality and Facebook comments.
To see a live example of a project case study for a hardscape project, click the following image.

Project case studies are magnets for potential design and build customers. Utilizing remarketing, we place your project case studies in front of people who have already been to your website and expressed interest in certain services. We push these case studies on their Facebook wall, their Instagram page, and on other websites they frequently visit. When someone is serious about building an outdoor living space, and you put an article in front of them to get ideas for outdoor living spaces from your previous project, they are going to check it out. When the time comes that they are ready to move forward, you've been in front of them the entire time.
---
Building positive online reviews creates confidence for expensive projects.
Building positive online reviews for your company is a very easy way to gain a leg up on the competition. Studies have shown that consumers trust online reviews as much as they do a personal referral. With hardscaping projects, you can bet that potential customers are going to research your company. If they are met with a slew of positive reviews, that will give them the confidence needed to place high consideration on you as their contractor.
Helping our hardscape contractors build reviews is one small part of the services we offer. We'll direct your customers to the appropriate places online that will have the biggest impact and most visibility. Also, it doesn't hurt that Google places a high priority on reviews for organic rankings!
---
We've helped generate millions in revenue for our hardscaping clients—take a look at a few of them.
We provide web design, SEO, and marketing services for several hardscape contractors that bring numerous new clients and millions of dollars worth of revenue. With our experience, we've learned what consumers respond to and how to generate the leads that turn into real customers. Take a look at a few of the hardscape companies that we've worked with below.
---
Schedule a free consultation with the top-rated agency for hardscaping contractors.
Successful online marketing and web design for hardscaping contractors require an experienced team. Just like your customers, you should want to work with the best. Here at Lawnline Marketing, we have the experience, reputation, and proof of results to show we're the best agency to promote your business online. We invite you to read what others have to say about us, then give us a call at (813) 944-3400 to discuss your online presence.