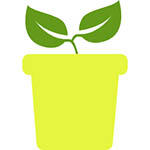 Generating leads for nurseries and growers from search engines and social media.
Depending on if you sell to the public, or only wholesale determines our approach.
As a web design and marketing company, it's no surprise we use the Internet to generate leads for nurseries and growers. However, the strategy is adjusted based on if you sell to the public or only wholesale to retail nurseries and landscape companies. We provide organic search engine optimization (SEO) services for both business types. However, paid marketing and social media strategies are very different for retail and wholesale nurseries.
---
Organic SEO, paid advertisements, and Facebook creates new business for retail nurseries.
For nurseries that sell to the public, there are many sources for lead generation. The most effective methods we've found are both Google and Facebook. With Google, we target organic rankings, local map rankings, and paid advertisements. On Facebook, we do paid ads, but a solid content marketing strategy is more effective.
To build organic Google rankings for a retail nursery, it all starts with the initial web design services. We create pages dedicated to what terms people search for. For example, if you're in the south, we'll create a page dedicated to selling palm trees. We also create pages dedicated to selling fruit trees. We create pages like these because that is how people search. Of course, we also have pages that cover the nursery in general, as well as any additional products you may supply, such as mulch, soil, fertilizers, and tools. We also utilize Google AdWords (paid ads) to ensure new customers can always find you.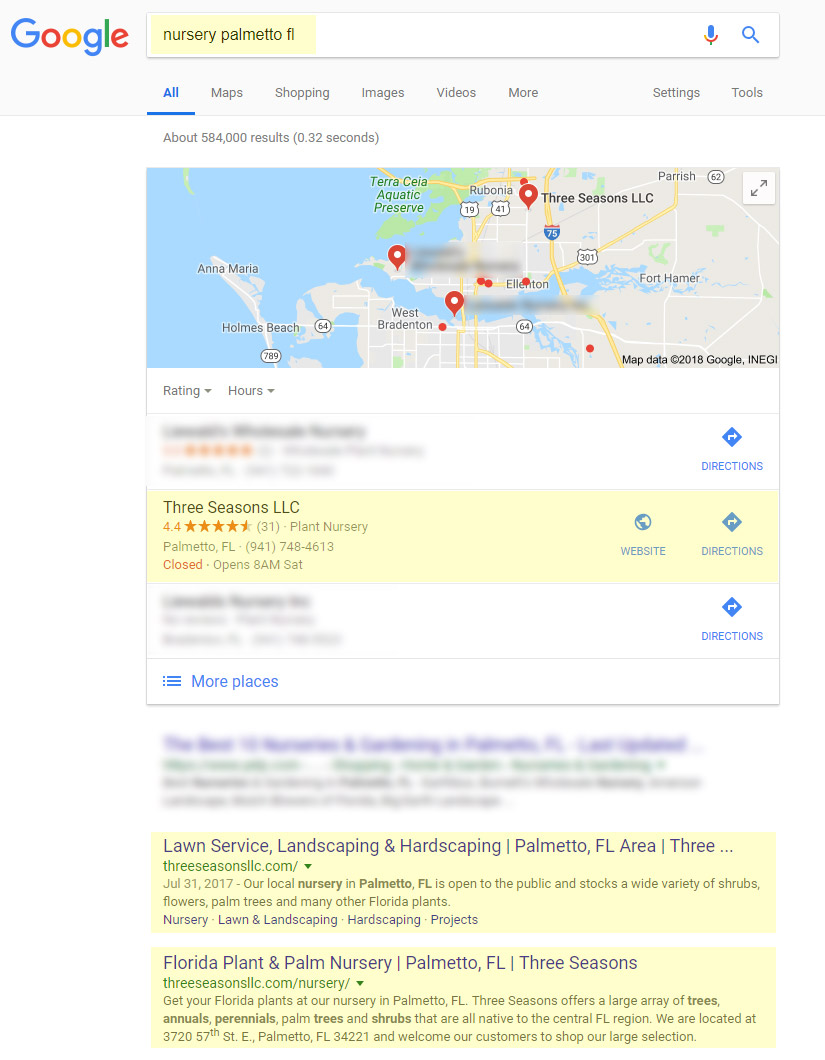 To generate leads from Facebook, we do promotional advertisements, but content marketing is what really shines. By building an audience, we can reach your followers and their friends. We'll create engaging content on your website, share it on your Facebook wall, then promote it to a targeted audience, which is very effective in generating new business. A great example would be when it's annual flower season, or when you have special deals.
Content marketing on Facebook generates results for retail nurseries. See an example below about annual flowers.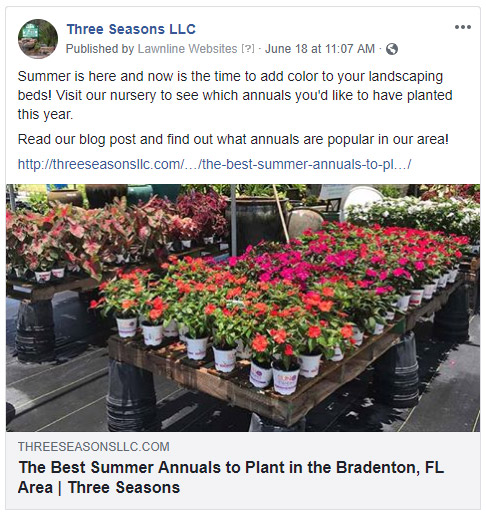 ---
For wholesale growers and nurseries, we help bring new retailers and landscaping companies.
For nurseries and growers that only sell wholesale, we help your two biggest customer bases—retailers and landscaping companies—find you. There are 3 strategies we use, which include organic SEO for local customers, paid advertisements for non-local, and LinkedIn advertising.
We use SEO for local customers because Google is very strict about their organic rankings. Unless your online presence is already very strong, it is difficult to rank your website in areas that are not local to you. For this reason, we use a paid marketing strategy on Google to reach customers outside of your local area.
LinkedIn advertising is an avenue that is often overlooked. What makes this social media website a great source of leads for wholesale nurseries is it is very business to business-focused. We can create advertisements that put you in front of landscaping and retail nursery owners.
When marketing wholesale nurseries, we use SEO for your local area and Google ads everywhere else. We also utilize LinkedIn marketing to put you in front of target business owners.
---
Nurseries we work with.
We work with companies serving the green industry, which includes nurseries and growers. Listed below are a few of the nurseries for which we are currently providing website design, SEO, and/or online marketing services.
---
Call (813) 944-3400 today to discuss your website and online marketing needs.
Ready to start taking advantage of the Internet and generating new business for your nursery? Give us a call at (813) 944-3400 and we'll discuss your business and how we can help to see if we'd be a good fit for each other.