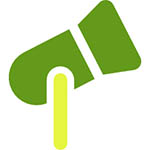 Website, marketing, and lead generation services for outdoor lighting companies.
We use an approach that mixes web design, SEO, paid ads, and social media.
As with anything else, homeowners use the Internet to find services they need, including outdoor and landscape lighting contractors. To generate outdoor lighting leads from the Internet, we use a combination of organic search engine optimization, search engine advertising, and marketing on social media. We have also seen success in remarketing landscape lighting services to your audience on Facebook.
Many times, landscape and outdoor lighting are not as competitive online as other green industry services. This makes it a little easier to rank organically on search engines like Google.
---
Ranking organically on Google for outdoor lighting searches.
As with any other organic SEO, it all starts with your website. For companies that have a high focus on outdoor lighting, we take an approach similar to that of hardscaping. We'll break out pages on your website that focus on services such as:
Landscaping Lighting
Architectural Lighting
Maintenance & Repairs
LED Conversions
Commercial Lighting
Here's a screenshot from one of our outdoor lighting contractor client's homepage:

On these individual lighting pages, we focus on the details and educating the visitor. When we write the content, we'll discuss things such as lighting techniques, LED lighting system benefits, and rendering software. By writing detailed content and properly using geographic signals, your outdoor lighting company's website will be in a position to start ranking on Google. Of course, there are additional SEO elements that should be done such as citations, review building, creating social engagements, and attracting inbound links, all of which we can help with.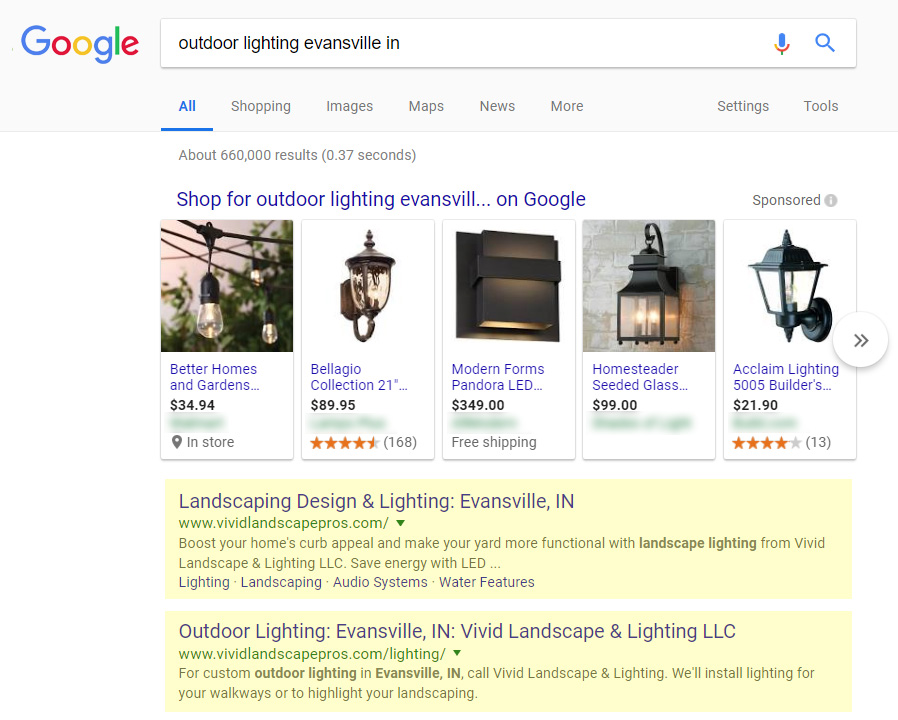 ---
Google ads target those actively searching, and Facebook ads target homeowners in the market for outdoor lighting.
When it comes to marketing landscape lighting services, we use paid ads on Google and Facebook. Each platform has its own strengths when it comes to lighting services. For example, with Google, we can target people directly searching for terms like "outdoor lighting in city". By sending those searchers to a dedicated landing page and providing strong call-to-actions, we can convert outdoor lighting leads.
On Facebook, people may not search for your services directly, but their interests and activity do get tracked. We can use this data to your advantage and put your advertisement in front of people that have shown interest in outdoor lighting. Facebook knows if someone is interested in outdoor lighting based on the Facebook pages they interact with, posts they like, websites they've visited that integrate the tracking pixel, and any other clever ways that Facebook uses. See the following image for a few of the interests we use to target people interested in outdoor lighting on Facebook.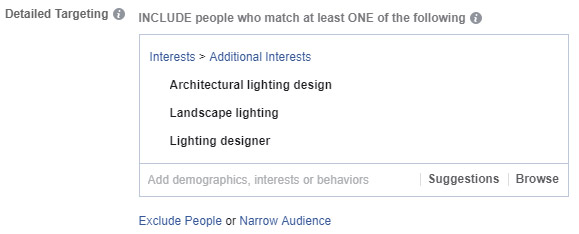 ---
We have clients that focus solely on outdoor lighting, and others that offer it as one of their many services.
Whether you're strictly an outdoor lighting professional, or you offer it as one of your services, we can help! With our web design, SEO, and online marketing services, we'll bring you new landscape lighting customers and help grow your business.
---
Call (813) 944-3400 to discuss web design and marketing services for your outdoor lighting business.
If you're considering working with our team, we recommend checking out our online reviews and then giving us a call at (813) 944-3400. We'll discuss your outdoor lighting business and see if we'd be a good fit for each other.